Cigar News
Cigar News 2004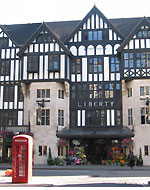 The Liberty Store on Regent Street sold a a range of chocolate Christmas presents. Included in their very wide range are of course chocolate cigars.

Following the trend for large cigars, Cohiba has produced a new special edition cigar to dwarf even the Monti Edmundo and Partagas Series D No 1. With its massive length of 6 1/2" and a 54 ring gauge, the Cohiba Sublimes are idea presents for a cigar connoisseur or company director. Some London stores are stocking these but be quick as the supplies are limited.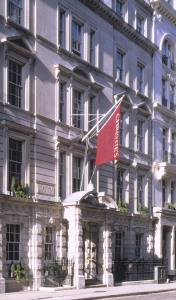 The Auction House, Christies held a Fine Wine and Cigars auction on the 11th of November 2004. There were some interesting lots on offer with very old cigars and not so old cigars on offer.
1 cabinet of 100 Ramon-Allones, Dunhill Seleccion Suprema No. 69. Pre-embargo (i.e. pre 1962)
Estimate £8,000-10,000.
Sold for £14,300.
1 Humidor of 50, Cohiba 30th Aniversario Double Robusto
Estimate £12,000-15,000.
Sold for £13,200.
The next cigar sale will be on 19th May 2005.
For those with slightly smaller budgets why not visit one of the several cigar shops around the St James area.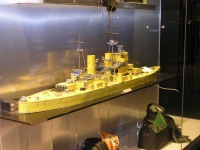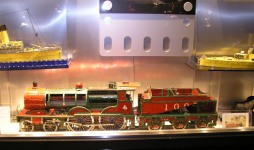 Dunhill of Jermyn Street has a winter shop display based around a theme of Meccano. With a large varierty of models, along with clothes and perfumes you can retire to the leather arm chairs in their upstairs humidor whilst the rest of the family entertain themselves in the shop.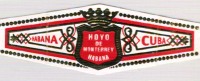 Hoyo de Monterrey's latest creation is the "petit robusto" at 102mm (4 in) and a 50 ring guage it is a little shorter than it's big brother the Epicure 2. It was described as a "breakfast cigar" by Foxes of St James, I am not sure I would got that far but it's ideal for a lunch time stroll in St James or Green park just around the corner. A complex smoke, "reminisant of old time cuban cigars" was the description given by the Covent Garden Segar & Snuff Parlour and I'd have to agree it is a more full flavoured taste than I was expecting but with no harsh edges. Another destinctive difference between this and the Epicure 2 is the presence of a distinctive red, white and gold band shown above.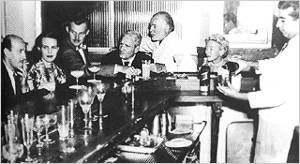 The famous designer and Restaurateur Conran has teamed up Havana Holdings to bring us a Cuban Restaurant Floridita /Bar and Cafe / Cigar Store Casa Del Habano. Floridita is named after Hemmingway's favourite bar in Havana. The bar opened at the end of September in Wardour Street and the Restaurant opened late October 2004.
Romeo Y Julietta's latest limited edition is the Hermosas No. 2. Retailing around £18 it is an over sized Robusto to rival the Cohiba Siglo IV and the Monte Edmundo. A long reliable smoke with a medium stength, it can be bought from several London stores including the Covent Garden Segar & Snuff Parlour.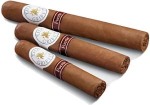 The Griffin's Dominican Republic cigars are more common in mainlane Europe but they can be also found in the UK and London. Perhaps you will see them, as I did, on the way back to the UK?
The new Griffin's Fuerte range consists of 3 sizes, the Short Coroa, a Robusto and the largest, Toro which is over 15cm long and has a 50 ring guage. The Griffin cigar range is made by Davidoff of Geneva with a mixed Dominican filler and a Conneticutt wrapper. If you have an opinion of these cigars then please send it to our review team.

The Motorcycle Diaries is based on the journals of Che Guevara. Guevara was rumoured to be a pipe smoker until he tried his first cigar in December 1956 when he was 28 years old.
See film review at IMDB
Read more about Che and his cigars at
Cigar Aficionado Magazine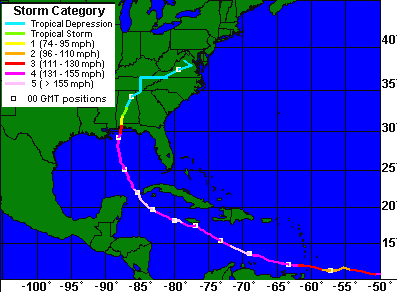 Hurricane Ivan narrowly missed Cuba before heading towards the USA. Jamaica and Cayman Islands were not so fortunate and were severely battered.Tropical Storm Jeanne is is repeated the terror destroying Haiti's costal towns.
Every year 2 or more Hurricanes affect one or more of the tobacco growing regions around the Caribean. Back in 2002 Hurricane Lili wrecked a large number of tobacco curing houses in Cuba. And last year North Carolina and Virginia were badly affected by Hurricane Isabel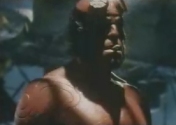 Well I can't condone smoking a cigar whilst pumping iron, but if you are an 8 foot tall red demon with filed down horns then I suppose it's ok. Sony Pictures is releasing the cigar smoking hero Hellboy into the UK early in September.
If anyone knows what kind of cigars Hellboy likes to smoke then please let us know

The popular Siglo VI from Cohiba is now available in a tube. The case is painted in the in distinctive colours of the Cohiba brand and looks so smart that I initinally mistook it for a case. The Siglo VI Tubos would make an excellent present for any cigar aficionado.
The new 50 ring guage Churchill cigar from the Partagas Series D range is called the No 1. Its a limited edition cigar with a darker than average wrapper. The small samples tried so far produced reliable smoke and the full bodied flavour is almost identical to the No 4 in the range.

Montecristo launched their Montecristo Edmundo on 13th May in Paris then in the UK on the 17th. A straight cut cigar measuring 5 3/8" with a 52 ring guage it's a bit shorter than the recent Siglo VI from Cohiba but is obviously being targetted at a similar customer.

Dunhill on Duke Street had a cuban cigar roller visiting on 13th/14th May 2004 rolling robusto sized cigars. These took a day or so to mature and were a most agreeable smoke. This is a regular event so watch the home page to see when the next event will be run.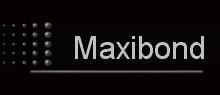 In the first quarter, Maxibond announced plans to open a new cigar club to open by the end of 2004.