Somewhere beyond the Sea
(A cigar reviewer visits Copenhagen)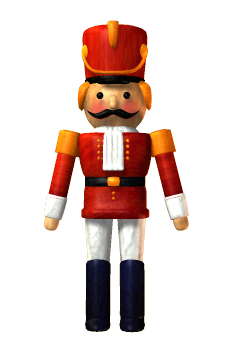 The twinkling lights of Kongens Nytorv Square warmed my sprits and the glow of a fine cigar warmed my fingers but it was still dammed cold as I walked around the centre of Copenhagen. I was however still glad to be visiting the Danish Capital city in December as it would give me a chance to pick up some unique Christmas presents at the Christmas market. This year the newly rebuilt central square is host to a donut shaped ice rink with an hours skate rental for only DK40 and the rink is free if you bring your own skates. I gave the skating a miss in favour of a visit to the most delightful Tage Anderson (even though it was closed) just behind the De Vere. This shop on Ny Adelgade sells dried flowers arrangements during the day has peacocks that act as colourful security guards at night
Just down from the square is Nyhaven (new harbour) a tourist packed parade along the side of the canal with many places to eat and drink. In the summer this is the host to a fine ice-cream shop but in the winter that is unsurprisingly closed. One of my favourite locations to visit is McJoys a downstairs bar on the corner of Nyhaven and Toldbod Gade, this is one of the many Irish (style) bars in Copenhagen and frequently has live music to entertain you. Unfortunately, I cannot be so enthusiastic about the many restaurants along this street which are overpriced and of average quality.
A much better option for eating is to head away from this tourist hotspot and away the the square. There is a wide range of international dishes available around the town but there is a distinctive French theme in most of the luxury restaurants. For a local feast you could try Toldbod Bodega on Esplanden, their local dishes are well worth the wait. Denmark is not the best place for spicy foods so if you find a good curry please let me know. However there are several good Mexican and Thai restaurants if you prefer your food with a bit of a kick. Chico's Cantina gets my special recommendation for bigger parties as it has a indoor jungle with beer taps on your table, this is complemented with a good variety of Mexican dishes. For a smaller group then the Wokshop which opened this year on Ny Adel provides an excellent range of Thai food but be aware that you could be sharing a table with others. Copenhagen's specialty is steak with the large chains of Hereford and Jensen dominating this market. Simply pick your type of steak and weight and watch it be cooked at the in restaurant grill. The Hereford Steak house is one of several places that sell after dinner cigars, their range is not excellent but their Dominican robustos have proven to be a good valued smoke. For those with a large budget then Le Sommelier has a quality of cigar to match the quality of their food and the size of their bills. St Gertrudes Kloster also has cigars and fine food but also has a window display of historical cigar rolling equipment. For snacks and lunch there are many pizza and kebab shops or you could find a traditional Danish cafe which will be happy to serve you a lunchtime platter of herrings or an open sandwich. Be warned however that many of these traditional places will be closed if you attempt to go back in the evenings.
The smoking laws in Denmark are not as restrictive as many countries and cigarette smokers are welcome in most restaurants. I did not feel quite so keen to light up a cigar in the restaurants as many of them are made of small connected rooms and it would be easy to fill these with the smoke from a couple of cigars. However there are a couple of locations specifically set aside for cigar smokers. The De Vere Hotel dominates the east side of Kongens Nytov and it's bar has a fine range of well kept Cuban cigars and drinks. The De Vere has also undergone a renovation recently and a distinctly stylish location. The other recommendation is across town at the famous Library Bar in the Plaza Hotel. Tucked behind the central station this hotel is significantly more plush on the inside than its location would imply. The Library bar also has a good range of cigars and is renowned for its Brandy selection.
Of course no visit to Copenhagen would be complete without a trip to Tivoli. The park is a blend of water gardens and attractions such as a new rollercoaster and the run away train. Tucked away at the back of the park is the cigar booth. Here you can see cigars rolled and have one made specially for you with it's special Tivoli tube. In the period just before Christmas Tivoli is opened with a special Christmas Pixies attraction, a Christmas Market and the usual Opera and Bands that you have during the summer. In the evenings there is a firework display to mark the closing of the park. The park also has many restaurants located in or nearby.
Just across the square from Tivoli, just passed the statue of Hans Christian Andersen is apparently the longest pedestrian shopping street in the World, Stroget. At the top of this is Poul Hansen's "Danish Pipe Shop", that has an extensive range of pipes and tobaccos and a wide range of cigars. The famous pipe makers, W O Larsen have closed their central store which was located next to the Dubliner at the other end of Stroget. However they can be still contacted online. From Stroget you can wander down Kobemagergade and perhaps stop at the famous Erotic museum?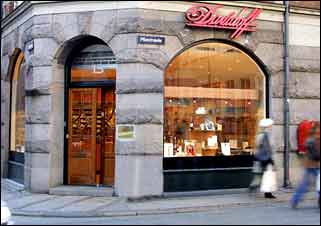 I however was more interested in the Davidoff Shop on the corner of Pilestraede. Unfortunately they were closed by the time arrived so I did not have chance to quiz them about the evening sessions that the online magazine Copenhagen this week have announced but I did have chance to admire their fine selection of accessories through the window.
The next day I found time to wander passed the pubs and nightclubs of Gothersgade to visit Paul Olson's My Own Blend on Christian IX's Gade. This shop is located next to Rosenborg Have, an ornamental garden which is an excellent place for a stroll and a smoke.
If you are visiting the city's football stadium and your team does well then you should wander across to Osterbrogade and down to Jacoberlansens Gade where Butler Vin have average sized range of cigars to celebrate or comiserate with. Coming back towards the stadium is Ost. Torv a square adjoining a range of shops and cafes and is just next to the "Park" night club which also has a buffet lunch.
Of course I could mention the Little Mermaid, the Carsberg Brewery or the multiude of museums and castles around the town but I just did not have chance to visit them on this trip.
Copenhagen Information
Although most things in Demark are more expensive than the UK, cigars do not appear to be included and are roughly the same prices as you would pay in London.
The Christmas Market is open from 22nd November to the 22nd December along Nyhaven.
Tivioli is open throughout the Summer then again in late November and through to Christmas.
Although it is possible to visit Copenhagen by Ferry, its costly and will take nearly 24hrs.
Many airlines fly from the UK to Denmark from a wide selection airports. The budget airlines Sterling DK and Easyjet provide a basic service but look out for offers from the larger airlines such as SAS and British Airways.
Copenhagen Cigar Shops
Name
Address
Post Code
Comments
Butler Vin
Osterbrogade
Postcode to be confirmed
A wine shop with a good tobacco counter just around the corner from the Parken football stadium
Copenhagen Cigar Club
Copenhagen Airport
DK-2770
Last chance for cigars before leaving the country. Remember Denmark is in the EU so there are no tax breaks for UK citizens.
Davidoff
Silkegade 23
DK-1113
On the corner of Silkegade and Pilestraede this shop has a wide range of accessories and of course Davidoff cigars. Their frequent "Cigar Bar" nights advise on cigars.
Kjear Sommerfeldt
Gammel Mønt 4
DK-1117
A large wine and spirit shop with a range of cigars
Paul Olsen A/S My Own Blend
Christian IX's Gade
Copenhagen

DK-1111
By Gothesgade and a range of pubs and nightclubs
Poul Hansen
Frederiksberggade 36
Copenhagen
DK-1459
The "Danish Pipe Shop" closest to Tivoli and the townhall square
W O Larsen
Online only
N/A
Previously located next to the Dubliner pub on the end of Stoget.